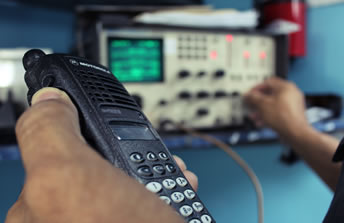 Forsythe's has gained the recognition as the Authorized Premier dealer for Motorola in the Bahamas. We have been working with Motorola since the 70's. During this period, Forsythes has sold many high and mid tier Motorola system s in the Bahamas. From small commercial solutions to large complex Mission Critical Public Safety projects, Forsythes has always been at the forefront as Motorola's premier partner of choice to ensure the success. At this time, there are five (5) Motorola Trunking Systems in the Bahamas of which Forsythes installed three (3) and worked on all 5 of them. These systems include:
- The Bahamas Government Astro 25 Trunked System, located at the Police Headquarters.
- Bahamas Electricity Corporation.
- Bahamas Telecommunications Corporation.
- Bahamas Electronic Lab in Freeport.
- Forsythes Communications Centre own private system
For all of our clients (Government, Business, etc), we provide all the planning of the system integration designs, site surveys, spectrum surveys, project management, staging services and installation services.
Forsythe's Communications Ltd, also provides wireless solutions for the day to day operation of Communications system. We are Motorola Broadband Channel Member. Forsythe's Communications Ltd has also serviced National and International territories for implementation, Optimization, maintenance service, Tier support, Service level agreements and Training – we help training our customers in the operations of systems and radios.
Forsythe's business services also provide strategies, financial modeling, and business justification analysis. Forsythe's employees are friendly and informed given the many years of prompt knowledge thereby obtaining Motorola's highest award in the industry by traveling to the United States for weeks at a time at for the highest standard Technical training.
We have not limited ourselves to just one part of the industry. Within the past two years we have certified our technical staff in the art of Tower Rigging professional climbing. This allows us to facilitate our customers in an efficient and timely manner.   Forsythes experience together with those of its partners have made Forsythes solutions the most valuable proposition when one considers experience, quality, service and price; this is why Forsythes is Motorola's premier dealer and partner for the most delicate and key accounts such as the Royal Police of the Bahamas and others.